The name Sattvaya was formed in a moment of silence and creativity as an amalgamation of the words Sattva and Ayahuasca. Sattva comes from Indian yoga philosophy and is a "guna" or specifically a quality where pure "being" is the quality or power that characterises it. Sattva is seen as the quality of life, and is also translated as light or purity. Sattvaya is translated in Sanskrit as "towards pure transcendence," the divine that each one carries within.


In summer 2021, Ronald started organising plant medicine & Ayahuasca ceremonies in Amsterdam under this name. Before that, he facilitated Ayahuasca ceremonies as a co-founder and musician under the banner of Ayakasha (2017-2021).
In our vision, we live on a beautiful planet that gives us everything we need to have/be able to live a beautiful life. Everything around us-the oceans, the animals, the plants, humanity-everything has ultimately emerged from the same source and is thus interconnected.
One soul, one heart, one love.
In today's western, society there is a lot of emphasis on individualism and materialism, where performing, standing out from others and controlling life are seen as important for our survival. As a result, we become more and more separated from who we are at our core, with the people around us, plants and animals.
In addition, we teach ourselves beliefs at an early age based on personal experiences, upbringing, school, culture, religion, politics, etc. These beliefs not infrequently lead to a false self-image, the pain body, with which we learn to identify. As a result, we become increasingly disconnected from our inner child and the core of who we really are, and we often struggle to make the right choices, for example. However, we are not our past and our thoughts, we are and can be so much more.
"In Lak'ech" - Ik zie jou in mij

With the deep wisdom and insights that the Sacred Plants and Ayahuasca share with us, we want our work to contribute to a more connecting and compassionate way of seeing and interacting with ourselves, each other and the environment.   
When we dare to let go of our ego and collectively take the leap to a more pure consciousness, we transform into a new society where people experience happiness instead of density and heaviness. As Sattvaya, we see this as our personal mission.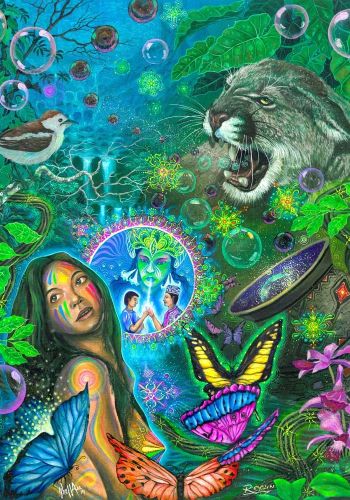 "Your vision will become clear only when you look into your heart. Who looks inside awakens"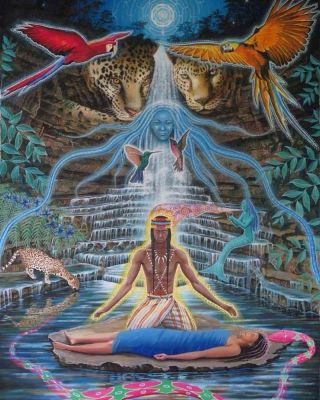 Within Sattvaya, we work with the Sacred Plants in a Western, therapeutic and neo-shamanic way. We see our work as sacred work, where the Sacred Master Plants are our sacrament. Therefore, we do our work within a safe ceremonial and ritual setting with attention and respect for the Spirits of the Plants and the indigenous traditions they come from.
The sacred plants teach us what we need to learn to heal, but not always in a language that is immediately accessible or clear to us. This is why we pay close attention to everyone's process for optimal processing and integration of their experiences. Besides individual counselling, we facilitate the sharing of individual experiences to each other through sharings. These sharing circles are guided by our skilled and loving team who have a lot of experience and expertise in this area.
Organising and facilitating ceremonies with Sacred Plants/ Ayahuasca is a skill that not just anyone can do. It needs to be done from feeling, with empathy, the right experience, knowledge and intentions with an eye for detail and the individual. This is a dynamic and interesting process. This also keeps us constantly learning, an important value for us. We therefore greatly appreciate feedback and experiences from our participants, and strive to continuously improve our service during our retreats, down to the smallest details.
Our priority for every ceremony is to provide a safe, warm and loving environment within which there is room for everyone to heal and grow. Are you open to developing yourself further and ready for an unforgettable experience? Feel free to read on or book your spot at one of our retreats now.
Want to stay up to date? 
Then sign up for our newsletter or follow us on social media. This will keep you informed of our activities.